Would you like easy and quick Amazon Prime ready baby and toddler costume ideas? Halloween is around the corner; choosing and planning their costumes is now super convenient and delivered right to your door.
What should you dress your toddler as? Something scary, adorable, a dinosaur, or a unicorn? Is it warm where you will be trick or treating or is the cold or rain a possibility?
Halloween is quite famous in our culture; boys and girls get dressed up in creative Halloween costumes and go ringing the doorbell of everyone they know to get their share of chocolates, candies and other sugary treats and surprises.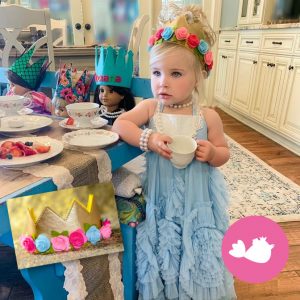 So what creative and unique costumes can you get?
Here's our list of the top cutest and best costume ideas you can get for your toddler, and best of all, they are all Amazon Prime ready to ship from a women and veteran owned business. Most of these fit all age groups including babies, toddlers, young school-aged kids pre-teens.
[convertful id="21127″]
List of Cutest Toddler Halloween Costume Ideas for 2019
Furry Cat Ears – For ages 6 months to teenager or adult
[amazon box="B01FQ0CGZK" /]
You've never heard of the Halloween Kitty Cat, come on! So plush, perfect for make believe, and lightweight for easy use. So many games are awaiting your kiddos! And, another product that is "multi-purpose" as it can be used for a Halloween costume or just as some added flair to an ordinary outfit! What's more adorable to have your little one dressed as a cat and running all around the place to collect their sugary treats? Aren't cat costumes just too adorable to handle? These very plush soft ears will hold hair back and make everyone smile. It's lined with black faux fur to make the softest headband and is finished with furry feathery material to make the ears look super realistic. Imagine your little one saying meow all over town. Finish the costume off with eye liner whiskers and a black nose, plus any black outfit.
Features:
The cat ears headband stands tall and definitely gives a 3 dimensional furry look
The headband is lined with faux fur which is very comfy and guarantees to be the best of ears
Is comfortable to wear and easily fits toddlers and even teen to adult
Furry White Bunny Ears – For ages 6 months to teenager or adult
[amazon box="B01AKNS3TQ" /]
It's Halloween and what's better than getting dressed as a bunny, right? What you actually need first is the bunny rabbit ears to complete the look of any costume. These would go easily with any white outfit. So get your child bunny ears that are soft, furry, adorable, comfy and most importantly made up of quality material. You can never go wrong with these bunny ears. These fuzzy plush white rabbit ears are of course the perfect addition. Low cost, great reviews, and fit softly as a headband so that any age can handle them. These are super popular with kids these days as they wear them out to shop at the mall, to restaurants, for cute photos, and to see their friends all year long, not just on Halloween.
Features:
Soft and furry 6 inch tall bunny ears
Headband and ears are 3 dimensionally lined with the softest faux fur making it very comfortable to wear
Is made of highest quality raw materials for an adorable and lasting look for year round fun
Changeable Costume Dress Up Letter Crown in Turquoise – For ages 1-8 years old
[amazon box="B07QP9D6T4″ /]
Now, kids can choose what message they wear. Imagine a Halloween costume crown that is completely customizable.  Do they want to write their name on their crown, how old they are, or how smart they've become? Or maybe they want it to match their costume, such as a turquoise outfit with "Little Pony", a dress with "Princess" a colorful outfit with the word "Rainbow" written on it. Their confidence will soar as they create their own words to wear on their head with their costume. Whether it's announcing it's their birthday, their favorite color or a new sight word they learned, it will make them proud. Parents, this is the last birthday crown you will ever buy! Change the name or simply write their age number or word every year for your child! This is the perfect Halloween accessory for trick or treating, school parties and beyond!
Features:
Comes with multiple sets of the alphabet letters
Lined with velcro for super easy use
Complete with organization storage bag
High quality wool felts
Changeable Letter Crown in Navy and White – For ages 1-8 years old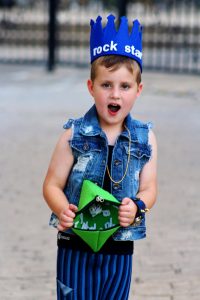 [amazon box="B07QL9HFLM" /]
You've seen what our letterboards are all about, why not take your thoughts, inspirations and words on the road? How about the perfect Halloween crown that will be custom to whatever costume your little boy or girl will have? These original elastic wool felt crowns allow your kids to be creative, use their imagination, and create fun words to wear everywhere they go! These well-constructed crowns are available for boys and girls ages 1-8 years old and are the perfect addition to their play area or classroom. The adjustable elastic crown along with the multiple full alphabet and vowel sets come tucked into a convenient wool zipper baggie that keeps everything organized neatly. One of the most fun aspects of our changeable and reusable children's letter crowns is that they are educational and a developmental hands-on learning activity. So, choose any simple outfit for your DIY Halloween costume and write whatever fits with it on the crown for the finishing touch! Wear a suit and write "President", dress professionally and write "Teacher", look tired and write "Mom", the possibilities for Halloween are endless!
Features:
Thick wool felt with velcro letters
Full sets of alphabet with extra vowels
Bright white letters on navy blue crown
Completely customized by you, everything included
Plaid Bunny Ear Bow Tie Set – For ages 6 months to 5 years
[amazon box="B01MU5I9SK" /]
Similar to bunny ears but Plaid Bunny Ears are added with a cute little bow tie set. It's a perfect fit for your cute little toddler to make Peter Rabbit go running. It comes in a neutral color to almost match with any outfit your child already has in the closet. The 6 inch bunny ears coupled with a matching bow tie give a classic look and are also made up of quality material. It's made to fit any size and you can even shape the bendable ears to the expression you want to depict. Why didn't someone think of pairing plaids with bunny ears sooner? So trendy and dapper for photos! This takes the traditional rabbit ear headband to a whole new level and makes your Halloween photo shoot complete.
Features:
6 inch soft ears and matching bow tie set that gives a classic look
The carefully handmade set is 3 dimensionally lined with the softest velvety fabric
Bow tie strap is adjustable from 9 to 13 inches making it very comfortable wear
Bendable ears to shape ears to any expression you want
Dinosaur Car Seat Poncho – For ages 6 months to 6 years old
[amazon box="B07DWMQWFG" /]
Imagine a chilly Halloween evening with this hooded thick blanket, keeping your little boy or girl warm while trick or treating but also adorable as a dinosaur with spikes! What is more adorable than a running small dinosaur in your home, ROAR? Sounds amazing right? Make your little one a running dinosaur with the bright bold patterns and 3D spikes dinosaur Car Seat Poncho. Birdy Boutique's Dinosaur Car Seat Poncho is a Halloween costume your child must-have. It's a unique poncho created specifically keeping in mind the safety of your child in a car seat versus a bulky coat. The unique pattern and style brings more life to your baby's Halloween gateway.
Features:
Will keep children warm during trick or treating
Has a unique pattern and design that is adorable
Soft and comfortable for your kid
Easy to put on and take off
Dinosaur Hooded Cape – For boy and girls, ages 1-6 years old
[amazon box="B01IQ44052″ /]
ROAR, since we are talking about dinosaurs, we love this one too. Silky, easy to velcro on and off, and super lightweight and airy. Throw this on over any outfit for a quick and simple Halloween costume idea on the go! Green with adorable yellow spikes and great for imaginative play with friends, toddlers during a playdate, or to just run around at home. We also like the no fray sewn edges, allowing for play that lasts more than a year! It's truly a toy that would fit perfectly into your costume dress up chest. The Green Dinosaur cape is just the costume your child needs to wear this Halloween. It would make your child feel as if they are a giant and hungry dinosaur t rex. The hooded cape is well suited for toddlers and small kids as it is made from a super soft, warm, flowy, shiny and comfortable material.
Features:
It can be worn and taken off easily, even your child can do it by themselves
Strap with soft sticky closure to keep the cape on while jumping, running or roaring
Simple to throw on over any outfit
Dinosaur Hooded Cape with Mask – For boy and girls, ages 1-6 years old
[amazon box="B01MA20CSS" /]
The Green Dinosaur cape is just the costume your child needs to wear this Halloween, plus this comes with a matching mask! So light and easy that you can throw it on over virtually any outfit and be ready to go trick or treating in a snap. Bright green with silky softness, the photos you will get will be bright and cheery.
Features:
It can be put on and taken off easily, even your child can do it by themselves
Comes with an adorable face eye mask
Strap with soft sticky closure to keep the cape on while jumping, running or roaring
Use again and again, even after Halloween
Flower 3D Leather Crown – For ages 1-9 years old
[amazon box="B071J77GV2″ /]
The reviews on this adorable crown is what got us. Usually play crowns and tiaras are made from low quality materials and fall apart, so how is this crown holding that many 5-star reviews? It's well made, the flowers are sewn onto the leather and the back has a cool convenient stretch strap that allows flexibility for any head shape or size. Pink, turquoise and green, so pretty. Get your little princess a unique, pretty and eye catching crown so that she actually feels like a princess. It's covered with 3 dimensional flowers that make it look perfect on your princess's head. It's a quality crown that is made from the best material to avoid scratches on your baby doll and is handcrafted with care, as it is known that your little princess will rock this crown. We think little and big girls would enjoy this, plus you get to reuse them for their birthday!
Features:
The best Amazon reviews any company can offer, check them out yourself
One of the most unique and beautiful kids crowns on the market, hands down
The quality is double reinforced to prevent ripping and additionally a wrinkled leather is sewn on top of thick felt
The flowers on the crown are made from soft material with bendable faux wrinkled gold leather and most importantly hand glued and sewn onto crown to survive all the wear and tear
Soft Fabric Mermaid Crown – For ages 1-9 years old
[amazon box="B074QJY2KX" /]
Do you want to see your little girl as a mermaid princess? Or is your little one just too excited to become the famous Mermaid Princess Ariel from Disney? These shiny mermaid crowns and scales have us swooning! Soft, flexible, bendable crown with a shiny shimmer look. Mermaids are all the rage right now and party theme, this will have any little boy or girl imagining they are swimming with Arial herself under the sea. Stretch adjustable in the back and made well to last in the treasure chest. Pair it with a mermaid tail blanket or shimmer scale leggings and you will have one happy girl. A mermaid themed basket, now that's an idea!
If yes, you should definitely dress your baby girl as the mermaid with this sparkly and shiny mermaid crown. It's quite a good catch as adorable and comfortable crown that had a sparkly scale pattern and is reinforced with a thick layer of purple felt underneath to make it comfortable for your little one.
Features:
Looks exactly like Mermaid scales that shines and glitters
Very unique and simply gorgeous, tall for a dramatic look
Has a super flexible and stretchy band so that anyone can use it
The excellent quality is double reinforced to prevent ripping the scaly fabric and is sewn on top of thick felt for quality that lasts all the tear and wears
Unicorn Reversible Mermaid Poncho – For ages 1-6 years old
[amazon box="B07DWRLGYN" /]
Unicorn, unicorn, unicorn! Can you think of a cuter costume? Let's stay warm on Halloween, now your little ones can dress as a unicorn with this double layered hooded blanket. They will be sure to stay dry and warm all Halloween night. Everyone loves the combination white minky with a pink horn, so rainbow magical! So why not get them this cozy, warm and comfortable hooded blanket that can be used again and again? To add the cherry on top of the cake, the poncho has a tall horn on it giving it the perfect look for your child. You can even use it as a car seat poncho when on a long ride.
Features:
Has a unique pattern with a unicorn horn
Soft and comfortable for your kid, super cozy snuggly
Easy to put in on and take it off
Double layered for extra warmth with hood
Gold Glitter Crown – For boys and girls, ages 1-9 years old
[amazon box="B01GPBVJZM" /]
What's better than dressing your little one as a prince or princess they actually are with this glittering crown that is of the perfect royal gold color fit to be a prince or princess. It's bendable to fit any head size and lightweight to keep your kids head away from being uncomfortable complete with glittery royalty gold that does not shed glitter or sparkles. Your little one would definitely appreciate you when you make them feel like they belong to royalty and are suited a Prince or Princess, Queen or King, to rule the kingdom.
Features:
Glittery gold crown, made of super soft and comfortable quality material
Easily bendable with stretchy band, can fit any child, boy or girl, between 1-9 years of age
The quality is double reinforced to prevent it from ripping and is handmade with love for little hands to handle
Unicorn Horn Fur Cape & Wand – For ages 2-6 years old
[amazon box="B071VRQXTM" /]
Which little child doesn't believe in unicorns? So why not make your little ones dream come true by making themselves a real unicorn. The Rainbow Unicorn cape and wand set is just what your little one needs to think himself or herself as the miracle and cute little unicorn. The cape is super soft, comfortable, flowy, and shiny; whereas the wand is adorable and pink so that your child actually loves pretending to be the happy unicorn. Use it again and again after Halloween! Did you notice the rainbow fur on it, adorable!
Features:
Made from soft and cosiest material so that your little one is always comfortable in it
A tall horn with a furry ribbon wand
Easy to independently put on and take off
Strap with a soft pliable closure to keep the cape on even while jumping, running or playing
We hope you enjoyed our many Amazon Prime ready Halloween ideas.
If you do decide to pass out some candy and treats this Halloween, we'd like to share our finds. We have all read about artificial and synthetic color and food coloring, so these are our favorite places to buy candies that are dye free and extra safe for all kids: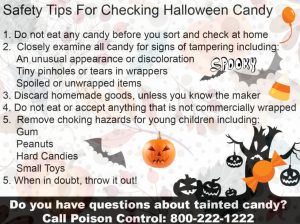 Latest posts by Joanna Jozwik Serra
(see all)