Non-candy Easter basket ideas for kids? Yes, please, and make it easy!
It seems that Easter baskets and candy go together like peanut butter and jelly. Since children will get their share of junk food and treats from their egg hunts, their school parties, and family, why not create an Easter basket filled with items that will be long lasting and reusable, and even non-edible? We think the Easter Bunny would approve, right?
The Easter tradition in our culture tends to be Easter Egg Hunts where our little ones get tons of candy and other sugary treats. Along with all the other festivities, this can really add up. Then, your children are wound up on sugar, crabby and not feeling so much like being happy.
Sometimes we need a simple reminder to have a plan, because it's easy to go overboard, especially for those of us that start shopping too early and stash stuff away, forgetting just how much we really purchased, or shopping too late and going crazy without limiting or keeping track of what you have purchased. Time to make a plan. Personally, we have always been a fan of the four-gift rule – something they want, something they need, something to wear and something to read. We know, though, in today's society there are some social pressures to toy gift and present our kids to pieces. So, whether your Easter Bunny is extremely generous or a little frugal, we have some ideas for you that will be popular with your children. It's almost Spring 2019 people, let's do this.
Stores around the holidays, and shopping with our precious children. Not fun. Especially if you are shopping for them. So, like most moms in the United States, you probably rely on the convenience of online shopping. How can you really compete with Amazon Prime? You can shop at home in your pajamas in any hour of the night and have it conveniently delivered to your doorstep.
#Win
Due to that fact, our suggestions below are Amazon Prime ready, whoop whoop! We have compiled quick ship Easter Basket fillers for your little boys and girls with great reviews. In fact, many of these are ideas for all ages, including babies, toddlers, young school-aged kids, and some for pre-teens too! Together, we can survive an Easter without LOL's Surprise dolls and all of their annoying tiny pieces that fall everywhere, stuck to everywhere putty playdough and addicting electronics.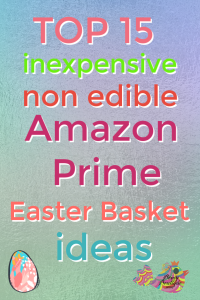 Top 15 Reusable Fun Easter Basket Filler Ideas for Boys or Girls
1. Furry White Bunny Ears – For ages 6 months to teenager or adult
Ok, you need one pair of bunny ears each Easter, right?
These fuzzy plush white rabbit ears are of course the perfect addition. Low cost, great reviews, and fit softly as a headband so that any age can handle them. These are super popular with kids these days as they wear them out to shop at the mall, to restaurants, for cute photos, and to see their friends.
2. Plaid Bunny Ear Bow Tie Set – For ages 6 months to 5 years
Why didn't someone think of pairing plaids with bunny ears sooner? So trendy and dapper for photos! This take the traditional rabbit ear headband to a whole new level and makes the Easter or Spring photo shoot complete. This set gets your little one so ready for the Easter bunny.
3. Dinosaur Car Seat Poncho – For ages 6 months to 6 years old
What's cuter than a toddler running around looking like a dinosaur with bright bold patterns and 3D spikes? Not only does this keep them safe in their car seats versus wearing thick coats under their harness, but it also gives them warmth. It also serves as a poncho to go for walks, in the stroller, or to cozy up on the couch. Bonus, they can put it on and take it off themselves, so if they get hot in the house, off it goes! Independence is golden!
4. Dinosaur Hooded Cape – For boy and girls, ages 1-5 years old
ROAR, since we are talking about dinosaurs, we love this one too. Silky, easy to velcro on and off, and super lightweight and airy. Green with adorable yellow spikes and great for imaginative play with friends, toddlers during a playdate, or to just run around at home. We also like the no fray sewn edges, allowing for play that lasts more than a year! It's truly a toy that would fit perfectly into your costume dress up chest.
5. Flower 3D Leather Crown – For ages 1-9 years old
The reviews on this adorable crown is what got us. Usually play crowns and tiaras are made from low quality materials and fall apart, so how is this crown holding that many 5-star reviews? It's well made, the flowers are sewn onto the leather and the back has a cool convenient stretch strap that allows flexibility for any head shape or size. Pink, turquoise and green, so pretty. We think little and big girls would enjoy this, plus you get to reuse them for their birthday!
6. Soft Fabric Mermaid Crown – For ages 1-9 years old
These shiny mermaid crowns and scales have us swooning! Soft, flexible, bendable crown with a shiny shimmer look. Mermaids are all the rage right now and party theme, this will have any little boy or girl imagining they are swimming with Arial herself under the sea. Stretch adjustable in the back and made well to last in the treasure chest. Pair it with a mermaid tail blanket or shimmer scale leggings and you will have one happy girl. A mermaid themed basket, now that's an idea!
7. Mermaid Chapstick Holder – For all ages
Keeping with the mermaid theme, this gift is pretty unique, and we haven't found it anywhere else. It is a lip balm keychain holder that allows you to store your chapstick and conveniently access it anytime. This is adorable for anyone with a passion for mermaids, including young school-aged girls who want to hook it onto their backpack or older preteens to clip to their purse. The scaly soft fabric soft enough to hang off your tote but sturdy and hold the tube in well, too.
8. Lumberjack Bow Tie – For ages 1-10 years old
If you are a parent in today's day and time, you know the popularity of lumberjack and buffalo plaid with shades of red and black. This would be an adorable little Easter Basket stuffer which can later be used for Easter Sunday church and a dressy dinner. Later, use it for the dress up drawer so that your little ones can play with it again and again. Convenient Velcro adjuster in the back allows you to make any neck size fit perfectly.
9. Lumberjack Plaids Poncho – For boy and girls, ages 1-5 years old
Continuing the red black lumberjack plaids theme, this is the coziest hooded blanket around. Comfortable, easy to put on and take off by any toddler and convenient. To top that off, check out the brown corduroy bow tie. Plain adorable!
10. Gold Glitter Crown – For boys and girls, ages 1-9 years old
Wow, a glitter crown that doesn't shed glitter bits and pieces when it is worn or touched, let's call that a win. Perfectly gold in color, lightweight and bendable, with a band in the back that fits any size head. Calling every prince, princess, queen and king. This crown suits anyone wanting to be a royal, pretend make believe play at its finest. This crown will last for playdate after playdate with the thread sewn method, proving to be sturdy for little hands.
11. Glitter Crown Fun Pack – For boys and girls ages 1-9
Making baskets for more than one kid or wanting to give them options on dress up play? These popping colors with no trace glitter let childrens' imaginations soar. They allow for so much imaginative play on play dates, when they are by themselves, or even at a meal! The variety of colors help fit different character dress up options.
12. Unicorn Horn Fur Cape & Wand – For ages 2-5 years old
The colorful fur on the back of this silky cape is what got us. White shiny fabric with a Velcro neck, a tall imaginative horn complete with a furry ribbon wand. Your little toddler will take their pretend play to the next level with this Easter Bunny idea. It's super lightweight, easy to independently put on and take off, and flies perfectly as they run around the house, pretending. Goes over clothing nicely and is sewn well. We love the splashed of bright colors on white!
13. Floral Fabric Crown – For ages 1-9 years old
This popping fabric pattern will truly make your little princess feel special on Easter. When she opens her Easter Basket and sees what the bunny left for her, her face will light up with pure joy. The colors here are magnificent for playing dress up, taking pictures and feeling like a princess. Tall whimsical points with layered pink felt on the inside make it a great long-lasting accessory in the basket.
14. Furry Cat Ears – For ages 6 months to teenager or adult
You've never heard of the Easter Cat, come on! So plush, perfect for make believe, and lightweight for easy use. So many games are awaiting your kiddos! And, another product that is "multi-purpose" as it can be used for a Halloween costume or just as some added flair to an ordinary outfit!
15. Gray Arrow Hooded Blanket – For boy and girls, ages 1-5 years old
The Amazon review by top mommy reviewer got us on this one; she knows what she is talking about. The gender-neutral pattern of gray and white mixes and the arrow pattern design is so classy and sweet. So many uses AND it grows with your child for years. Great investment.
DIY
Don't stress yourself out with DIY projects during Easter. But, if you love them occasionally, especially over long school Spring breaks, here are the top 5 we found that are tried and true, quick and painless:
Super Easy Slime DIY Tutorial, for Any Occasion – What is it about kids and their love of slimy gooey squishy substances? We don't know! But we know they love them and here is a great, safe and easy recipe that you can make, and they can even help! Add some food coloring or glitter powder for a special effect!
Portable LEGO Kit for in the Car or On the Go – Do you have a LEGO fan in your family? We do! This little craft project is a great idea for a busy kid on the go. Take this awesome lunch box in the car or in the stroller to keep you little one busy and entertained!
Incredible Edible Play Dough – This is awesome! They can build, form, shape or just touch and squish! The best part is that it is safe so no worries about your kiddos putting it in their mouths. Try it out and let us know what you think! We're convinced!
Let Them Entertain Themselves with Singing Straws– Little engineers? This is perfect. Give them some straws, tape and scissors and let them create this awesome musical instrument. They'll love it. They might have to use it outside, but they'll love it!
Make Miniature Cork Sailboats – Bath fun? Yes, please! These are super easy to make and really fun to play with. Race them around in the bath tub or a pool for extra fun!
We hope your kids will love the options we found for fun that doesn't stop!
Need other little fillers that will stuff that basket full?
Books
Journals
Phonics Games
Band-Aids
Outdoor Games
Flashlights
Gel Pens
Card Games
Themed Bed Sheets
Natural Bath Bombs
Puzzles
Nail Polish
Umbrella
Rain Boots
Memberships to experiences such as zoos, museums, and other community locations are always a hit, too.
If you do decide to include some candy and treats in their Easter Basket, we like to share our finds. We have all read about artificial and synthetic color and food coloring, so these are our favorite places to buy candies that are dye free and safe: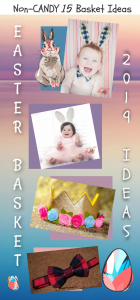 Disclaimer: Some of the products described in the blog are Birdy Boutique products, which are made with love by our mom + women + certified disabled-veteran owned small business.