Paying for professional photo shoots isn't always an option, here are some tips we gathered so that every family can create and capture forever memories!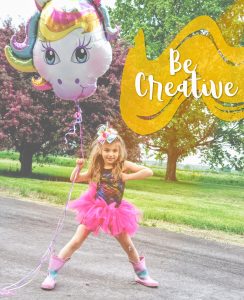 Capturing your child's milestones through photographs allows you to preserve all the special moments of their life so that you are later able to look back on them with fondness. It also allows you to share these memories with your child when they are older; and they can then share them with their own children. Kids grow up entirely too quickly, so it is important to savor these memories while you can, and before they pass us by and are gone forever. Today's moms are empowered by technology, supportive communities and amazing ideas. Nowadays, taking a great photo is as simple as whipping out your trusty cell phone and then possibly throwing on a couple filters.
But, better yet, you can hone your photography skills by practicing your technique with a camera you may already have laying around the house collecting dust. Today, we are going to give you our top photography tips for birthday photos to try out at home or in a local park. Practice these and you will see how making just a few changes completely alters the look and feel of your pictures. Practice a bit before a big event so that you're used to these new techniques. Taking pictures of kids is a lot more challenging than taking pictures of still objects, but with a few tricks of the trade you will get the hang of it.
Make sure to check out some of the photos that we took with our own personal cameras. Your personal creative and exploratory eye (along with some super cute accessories from Birdy Boutique) will get you going on your way to making beautiful and amazing memories that will last a lifetime. Don't forget that while you are having fun and doing this, you are also saving hundreds and hundreds of dollars by not hiring and paying a professional photographer, which isn't always in the budget! And, the more you practice these tips, the better you will get. Guaranteed! You will value these pictures so much more because you took them yourself!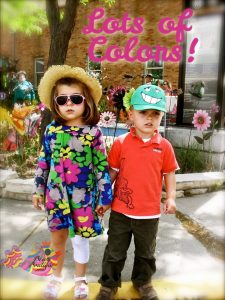 What is pic worthy? The right question is – what isn't? For babies, week and month milestone pics, half and full year birthdays, first and last day of school, first birthday cake smash, preschool, kindergarten, or any grade graduations, dance recitals, seasonal pictures like pumpkin patches and spring flowers, holiday pics like Christmas and Easter, losing first tooth, first bike ride, and so many more! Pick outfits, a location, theme and props – you're on your way!
Don't have a professional or large camera? No problem. Use your phone camera. Take some time to practice with the different presets and settings and check out what kind of free picture editing apps came with your phone. Looking for other phone pic editing apps? See our list at the bottom of the blog for our top pics.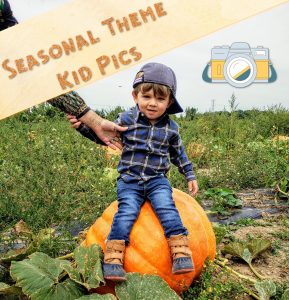 Tip #1: This is the most important tip, in our (humble) opinion. Make sure you get down to your child's eye level to take the pictures. Taking a picture while you are standing up from your adult vantage point is the sure-fire way to get a photo that is not natural looking, proportionately distorted in size, and one that fails to fully capture the moment. Everything looks smaller in a photo if it's taken at a downward angle. One of the biggest things you're trying to relay through this milestone photo is your growing baby's size, so give credit where it's due. Do it accurately and hold the camera like there's an imaginary line between your child's eyes and your camera lens. You can also capture several different angles this way. You cannot go wrong with this tip; use it every time!
Tip #2: Hand your child a complimenting or coordinating prop to hold and play with. As with everything, newer is always better. There's just something about a brand new item that holds all the mystery in the world for children. They want to hold it, play with it, do fun things they have never done with it, and treasure it. This translates into perfectly natural photos, because it usually means that they are so engrossed in this item that they are sitting still and taking their time examining it. This could be something as simple and inexpensive as a balloon, or maybe a small treat or snack. It could also provide a great way to bring your event "theme" together. Check out this cute headband with plaid bunny ears and matching bow tie; perfect for while your little one is holding an inexpensive Easter basket. Baby's first Easter never looked so cute.
Tip #3: Use natural light, if at all possible. Stick with one light source, too. Don't think that by flipping on your overhead light, you're helping the photo situation. Competing lights mean competing light temperatures. The warm glow of your lightbulb may be beautiful, but it could make your sweet baby's face look way more orange than pink colored. Likewise, direct sunlight isn't ideal either. No one likes to squint, and the overhead and bright sun means that more shadows on the face may appear. If you are planning to do your photo session outdoors, find a great space with lots of open shade, without the "dabble" effect from trees. It will pay off; we promise!
Tip #4: Bringing in help to assist with your session is always super helpful. A friend, preferably someone the child knows, could work at trying to get your little one's attention while you concentrate on taking the pictures. Have them stand directly over your shoulder, rather than off to the side. Make sure they kneel so that they are also at the camera's and your child's level. This way your little one will laugh, smile and look straight at the camera instead of looking up. Then open up the floodgates of silly faces, noises and moves, and see what you get. We bet it will be something amazing. Plus, if it's anything like us sisters below, you will crack each other up!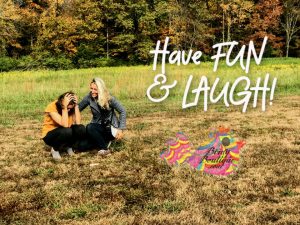 Tip #5: A fun background can make all the difference in the world. Be creative and think outside the box. You can keep it simple by selecting an outdoor location with an open field, or with a more manicured landscape like at a park. If you want to make it different, finding a cool patterned wall is always a good option too. Make sure that you choose a safe location if you're going somewhere in public. Train tracks are actually illegal (and super dangerous) to hold photo sessions on, and that abandoned building may look really cool, but may not be the safest place for you to let your guard down and take your child to. Even sitting them down on pretty pebble steps or a nice bench may be dangerous if you don't have a spotter close by. If you're planning an outdoor session, don't forget the bug spray, sunscreen, drinks and snacks! Nothing can ruin a photo session like a hungry baby, or a hungry mommy!
Tip #6: If you have an active little mover and shaker on your hands, placing your child inside something may work out great for you. Maybe an old antique suitcase, or a cute little wooden apple crate purchased at a craft store would work for your vision. Check out garage sales and thrift stores too, they have so many inexpensive unique props! Colorful kid's chairs make for cute props as well. These items will keep your child in one spot and hopefully give you the opportunity to snap a few pictures before there is an attempt to escape.
Tip #7: Every parent has that one toy that they loathe. You know it well. It's the loud and obnoxious one that makes your skin crawl. But your baby? They can't get enough of it. Bring it along to your photo shoot, and have your handy assistant shake it by your head to get their attention to look in your general vicinity. It will pay off!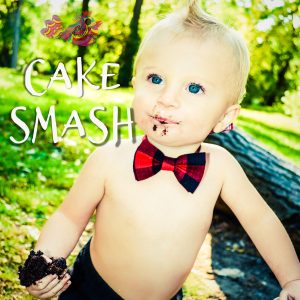 Tip #8: The thought of a cake smash session may overwhelm you. We urge you not to skip this fun milestone. Even a simple cupcake given to your kiddo on the floor can create tons of fun photos that you're both sure to love for years to come. Birdy Boutique has so many cute and inexpensive options to use as wardrobe props for your child's first birthday celebration photo session. From crowns, backdrop banners, to outfits; there are so many possibilities, see all of our unique birthday products here. Another huge benefit is that all these items can be used over and over as they have many functions. Everything, as an example, can be used during your photo shoot and be brought back out at their first birthday party as cute decor. Kids also love playing with these accessories during dress up time or on fun play dates with friends. The important thing here for a cake smash and first birthday is choosing a theme, whether it's lumberjacks or circus, or a color palette of pinks and golds or neon greens and oranges, and going from there. Having a first birthday party theme to start with will help everything fall into place. Not a fan of spending a ton at a fancy bakery, bake your own jumbo cupcake or check out options at Walmart or Kroger.
Tip #9: Experiment with other angles while you photograph. Maybe move in close and get a cute shot of those adorable toes or fingers covered in frosting. Have them look up at you and focus on their big eyes. Or have them lay down, and you take a shot from up above while they're grabbing on to their feet! The possibilities for cuteness AND great photos are endless. Remember, it's not always about having them sit and look directly at you, be creative!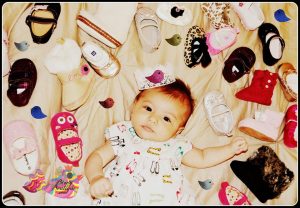 Tip #10: If you want to make your photos pop more, experiment with some free photo editing software online or on your phone. Each quick step can make a huge difference so try them out. Make sure to check out some You Tube instructional videos for the basic steps. Take these slow as too many of these edits at the same time can be very technical and overwhelming. Scroll down below for our favorite phone editing apps, too.
Tip #11: Our final tip is to simply have fun. No one likes a stressed out and frazzled photo session as it won't translate nicely into those images. So, relax, smile and your baby will relax and have fun in return! Your photos will show it too!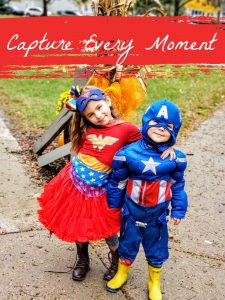 Relax: Taking pictures of nature, adults, or buildings is so much easier than your little ones. Taking pictures of children can be super challenging because they do not like to sit still and often will not listen right at the time we want them to. Out of dozens of pictures, you may get one or two that are worth printing. Many can turn out blurred or the child is not looking anywhere close to the camera. These struggles are REAL. Instead of asking or telling them to take certain poses or to look in a certain direction, try different methods, such as distraction, favorite song, game or toy, or just being silly to relax your child. Making your child comfortable with the camera and the setting is the key to getting naturally perfect photos, music is fun too!
Follow your child: You may also want to consider just allowing your child to do what they want with as little redirection as possible. You know they will want to explore, touch everything, feel it, climb on it and move it. This is a great way to capture some natural expressions, feelings and emotions in a photo. It also allows your child to show off their natural curiosity. And smiles will come more naturally. So, follow them around; don't make them follow you.
Get them used to the camera: Start using the camera around the house, on walks, or during any other regular activity so that your child gets familiar with it. The comfort level will increase and this will result in better pictures because this picture taking business will not be anything new. You can make this into a fun game and then show your child the picture you took; kids love seeing pictures of themselves, especially silly ones. Soon they will be asking you to take pictures of them so why not start now?
Not all smiles! All of your child's expressions are picture worthy so don't only focus on their smiles. There is so much more out there: frowns, astonishment, surprise, peace, grin, grimace, etc. Capture them all so that you can remember it all. You know your little one has expressions no one else has, so try to catch them all. A few crying pics are memorable too.
Don't force it: If you or your child are not in the mood for pictures, let it go. Try again another time. There is no need to waste time and energy because you will not get the results you are looking for. You could also unintentionally cause your child to dislike taking pictures all together, and that is not what you want. If your little one is grumpy, feeling a bit sick, or just not in the greatest of moods, just let it go, and try again another time. Believe us, it's worth the wait. They have bad days just like we have bad days and we should try to understand that.
Continuous mode – best tool for quick babies: Many cameras have a special mode on it that allows you to get several split second pictures of the same moment. This could capture some things that you may not even see; but the camera does. Imagine a happy antic that your child loves to perform. Now imagine this same antic in frame by frame sequence. How cool would that be?? Catching your child in mid air with a huge scream on their face? Upside down tumbling in the grass with an infectious smile? Possibilities = endless.
Top Phone Editing Apps
There are hundreds if not thousands of cell phone editing apps available these days on the market. Many are free, some are free for limited options and some cost. Before you dive into downloading editing apps, play with the programs that came installed on your phone first.
Android Phone Editing Apps
iPhone Phone Editing Apps
We would love to see how you creatively used some products from Birdy Boutique in your photography sessions (professional or otherwise!) Other moms would love to see your ideas too! They just might make someone else's photography session easier and more fun. Remember, we are always just a quick email away from helping you. We're frugal Mamas ourselves and are chock full of good ideas and experience that can help you along your journey. Our email welcomes all questions or comments: Shop@BirdyBoutique.com

Latest posts by Joanna Jozwik Serra
(see all)