Safety.
It's what you think about every single day since getting pregnant. Then your little one is born, and you think about it even more. As you research and read countless articles, your mind is overwhelmed at the rules, products and recommendations. You're going to be a new mom! You must keep them safe, that is your mission. Then, amongst everything else, you start hearing about car seat safety. How coats and car seats aren't friends. How you should buckle them with no coat at all (brrr)? Then you hear about car seat ponchos. Or maybe you don't learn about car seat safety until later.
[convertful id="15019"]
Graco, Evenflo, Chico, Peg Perego, Britax, Cosi, Cybex, to name a few, and registering for things whose purpose you don't even yet know. You didn't read the car seat manual and buckled your little one with the chest clip entirely too low over AND over a coat, aghhh! It's overwhelming and the information out there is vast.
We aren't experts, so we follow reliable and unbiased blogs like Car Seats for the Littles (so informative!) and Car Seat Blog (great forum to ask questions!). Did you know you're NOT supposed to buckle your child over a coat in their car seat? Well, we know now. We also know that so many parents, unknowingly, buckle their children improperly in car seats, and that makes all the difference in an event of a crash. It's not a myth. In fact, there is a 75 to 95% misuse rate with clothing and car seats.
It's just not safe to buckle a child into a car seat over a coat, period. The AAP (American Academy of Pediatrics) and CPSTs (Child Passenger Safety Technicians) agree, too. When we know better, we do better. This is why our company, Birdy Boutique, designs and offer car seat ponchos; we will help put your mind at ease. You already have so many decisions to make.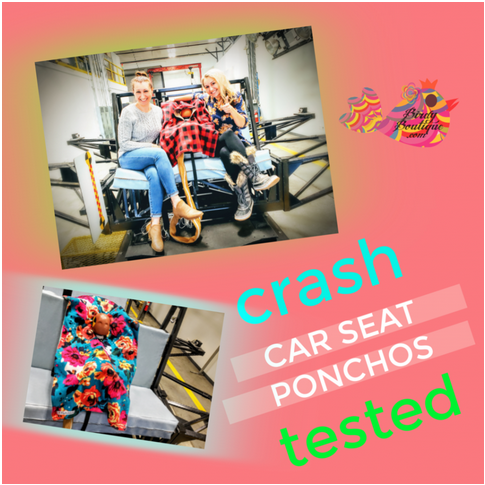 The car seat poncho is recommended by various car seat safety organizations as a safer way for children to travel in car seats versus wearing thick winter coats, which can add 4 dangerous inches of slack into the harness straps. Car seat ponchos do not in any way interfere with the harness and therefore are completely safe and beneficial in the event of an accident. These are uniquely designed by us and can't be found in these prints or fleeces anywhere else.
[convertful id="15019″]
Plus, they have others uses too like for strollers, park visits, chilly evenings, even for the couch as they are the perfect wearable hooded blanket! In fact, your children may not want to take them off at all, it could be their favorite safety accessory; one less thing to worry about. Most important, you can rest peacefully knowing your baby or toddler will be safe in their car seat using a car seat poncho.
You've Seen Other Ponchos, How Are Ours Different?
Like we mentioned, we are not experts but what do moms love to do; research!? We researched in depth and found the appropriate technical experts to help us test and certify that what we were making and offering truly does keep babies, toddlers and all children safe in their car seats. We wanted it to be simple and without stress for moms, but kid friendly, functional, and adorable too.
2019 CAR CRASH TESTED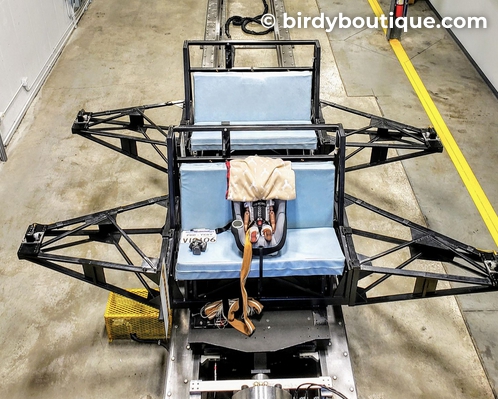 All car seat crash test facilities are legally bound to comply with Federal Motor Vehicle Safety Standard 213 (FMVSS 213). This standard outlines in detail all the requirements that replicate the conditions of a car seat car crash; in other words, restraint crashworthiness. Equipment that is purchased to use with or in the car seat is normally not crash tested as there is no legal requirement to do so. As safety in the car seat can prevent serious injury and death, we here at Birdy Boutique decided to invest in crash testing our car seat poncho. We found a testing facility that is primarily used by the government and major car seat manufacturers to crash test different types of car seats on different "age" dummies.
By following the above standard, the facility conducted a thorough crash test on a 1-year old dummy in a properly installed car seat. Our results were just as we expected; our poncho easily surpassed the safety standards outlined in FMVSS 213. The reason why our ponchos are awesome? They are pulled on your child OVER the car seat belts so that there is no chance of extra space from bulky coats between the child and the belts. The harness is right against the littles chest, as if not wearing a coat at all.
Crash test approved!
For the most updated research and information, check out the Federal Motor Vehicle Safety Standard Website.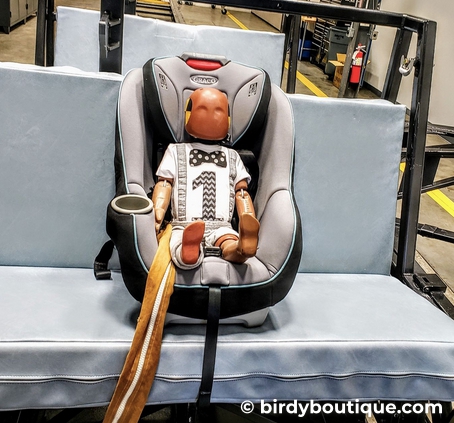 Car crashes are the leading cause of death for children ages 1 to 13. Take a look at the 3 most important factors to consider before you start driving with a car seat in your car.
Find the right car seat. There are four different car seating stages for kids; rear-facing, forward-facing, booster and seatbelt. Within those are various subcategory options, check them out here. Knowing which one is appropriate for your child's age and size is critical. You can follow the NHTSA's car seat recommendations and also find and compare care seats with easy to use ratings at the above link. Remember that with age and size changes, the car seat will need to change as well.
Install your car seat properly. Understand the parts and tips used for proper installation. You can also follow the NHTSA's detailed car seat installation instructions and videos which describe in detail what different car seat parts and vehicle parts look like, where they are located, what they do, and how to properly use them in installation. Finally, make sure to get your installed car seat inspected at a certified station near you. Certified technicians will inspect your car seat free of charge, in most cases, and show you how to correctly install and use it.
Keep your child safe in a car set. First, ensure that you register your car seat and sign up for recall notices to receive safety updates. You should also sign up with the NHTSA to receive e-mail alerts about car seat and booster seat recalls. Layer your child in tight fitting clothing that is close to their body to allow the car seat belts to be tightened properly. Never buckle your baby or toddler in the car seat with bulky coats on, and don't pad the base of the car seat, as those things allow for extra space between your child and the belts. If you are worried about your child's warmth, use a blanket or a car seat poncho to place OVER the car seat belts while still allowing proper buckling.
CPSC/CPSIA TESTED & COMPLIANT
The Consumer Product Safety Commission, CPSC, requires that all children's products are subject to a set of federal safety rules, called children's product safety rules. This means that all manufacturers are required by law to ensure their products go through rigorous testing that will deem their items safe to use.
The Consumer Product Safety Improvement Act, CPSIA, allows the CPSC to be more stringent on product safety requirements. Each one of our ponchos, along with all other Birdy Boutique products, have been rigorously tested by a CPSC approved laboratory and all CPSIA standards have been met. This means that all the materials used in manufacturing our products were tested and are safe to use for you and for your child. We went through this lengthy process because safety is a priority we care about! Our ponchos are SAFE and CPSC and CPSIA compliant!
More About Our Car Seat Ponchos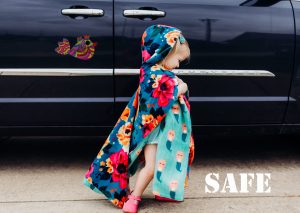 It took us a while to perfect the design and we made countless attempts and trials while sewing fleece pieces together in different shapes and sizes; practice makes perfect. Our sewing machine wasn't happy, but we finally decided on the current design we create for your babies and toddlers to use today. Here are some highlights about our car seat ponchos:
TRAVELING PONCHOS: Safer than a coat in the car seat, double-layered, reversible, warm, cozy, in uniquely designed patterns. Promote toddler independence while keeping your little one safe without buckling them over bulky coats this winter in the car. They grow with your child and fit 6 months to 5 years +. These are the SAFER way to travel this fall, winter and year round!
SAFE: Did you know a coat can add 4 inches of slack into the child's harness straps, leaving them at risk of dangerous upwards movement or even ejection from a car seat? No more worries about safety when buckling your baby over bulky coats or clothing with our Traveling Poncho! It simply goes on your child over the buckles and seatbelts without worries of extra slack. It's easy: take your child out into the car wearing the poncho, sit them in the car seat, flip the back part of poncho over the top of car seat, hold the front up while you buckle your child, and place the poncho over buckled seat belts.
QUICK: Save time getting in and out of the car. Our car seat blanket poncho slips on over your child's head, allows for extra room for a hat if needed, rest of poncho spreads over your child's body for full coverage and warmth. The poncho is made of super warm soft fleece, it's rectangular and long enough to provide warmth. Kids have the freedom to move their arms or keep them under the blanket for warmth.
WARM: Using the highest quality thick fleece, and double layering it so there are two pieces of fleece make it super cozy and truly warm. Whether you live in Michigan, Wisconsin, Illinois, or even Alaska, it does the job truly well of keeping your baby safe and cozy in their car seat or stroller. We've even had parents from warm states such as Georgia and Florida use them for those chilly morning and evening outings.
SIZING: One Size, the poncho fits kids 6-12 months old in a car seat and up to 4 or 5 year old walkers in their convertible car seats, growing with them! What is better than buying something for your child that keeps up with their super duper fast growth spurts? One small investment and you have something that will be with them as they get bigger. Sprout freely little toddlers! Mom and dad finally found something they don't have to replace every 6 months. Parents of new walkers should ensure child does not trip on poncho when walking, as it may be a little too long.
MOMMY MADE: Designed in the USA by a small company in the metro Detroit, Michigan area community! Hundreds sold to happy moms and dads all while supporting a mom owned Michigan-based business.
UNIQUE: Custom printed fleece! Every pattern you see on our ponchos was carefully thought out, designed, and printed just for Birdy Boutique. You won't see these patterns or fleeces anywhere else! In fact, you will want to buy one for a friend's baby shower or baptism gift, too!
This unique reversible fleece poncho was designed and created with one thing in mind: SAFETY. You can put the poncho on your child to walk from home to car, then lift the poncho front, buckle up your child, and put the poncho back down over your child. That's it! Hassle Free Safety, Comfort and Warmth with numerous 5 star reviews. Even grandma will be satisfied (because she may hassle you about not wearing a coat in the car, right?)
The poncho can be placed over the seat in the back so as not to create excessive bulkage behind your child's head when in the car or stroller. The front is long enough for coverage and can be tucked in around the sides. Freedom of arm movement is paramount as most kids don't like to have their arms restrained. The hood can be on or off and has enough room for an extra hat if needed. The adorable design options are double sided and reversible, it's like two ponchos in one, bonus! Kids genuinely love our ponchos for all kinds of activities, it is a joy to watch them independently using them.
There is no one book on parenting and being a new mom that has all of the answers. When it's said and done, we as new parents just do the best we can. Try not to stress and be comforted by the fact that we have been there too, and there is a village of us! Our goal is to get you and your family in the car feeling safe so that you can focus on having fun and soaking up every joyful moment with your precious loved ones. Through spreading awareness, we want to keep every little boy and girl as safe as possible. So, don't let car seat safety stress you out, it's worrisome yes, but with some facts and information, you will be on your way to the safest possible car rides. Road trip anyone? Then, you can freely research all of the other (maybe not needed!) baby equipment out there, yikes.
What's better than the gift of safety? Coming soon, we will share our diy tutorial so that you can sew your own. Why would we do that if we sell them? Well, in the end, it's all about safety and if you'd rather make one, that's great too. It's so fun to create and sew too, that's how we got started so we know. The goal here is safety, and that's the common result we are all striving for.
P.S., we will have free pattern downloads, too, woop woop!
Easy & Short Safety List to Sum It Up
Was that overwhelming? We hope not, but let us shorten it for you. Here are the basics, don't stress:
Research car seats and decide on an infant or convertible model
Correct installation by a CPST
Ensure proper harness tension (pinch test)
What Publications Say About Car Safety:
"It's a mistake any parent can easily make in winter: putting your child in a car seat bundled up in a winter coat. And it could be deadly."
"There are a number of poncho options that work well with car seats. The key feature is that the poncho doesn't interfere with the harness."
"When a child is wearing a winter coat, it may feel they are strapped snugly into a car seat when the straps are actually dangerously loose."
"As a general rule, winter coats should not be worn underneath a car seat harness because that can leave the harness too loose to be effective in a crash."
"Most winter coats and snowsuits add about 4 inches of bulk to the car seat harness straps."
"What difference does 4 inches make? The average coat adds 4 inches of slack into the child's harness straps…that's like wearing 38 inch waist pants when you are a 34!"
"There is an up to 95% misuse rate with clothing and car seats."
American Academy of Pediatrics
"Use something that goes over the car seat harness straps only, not underneath."
What Happy Parents Say About Our Ponchos: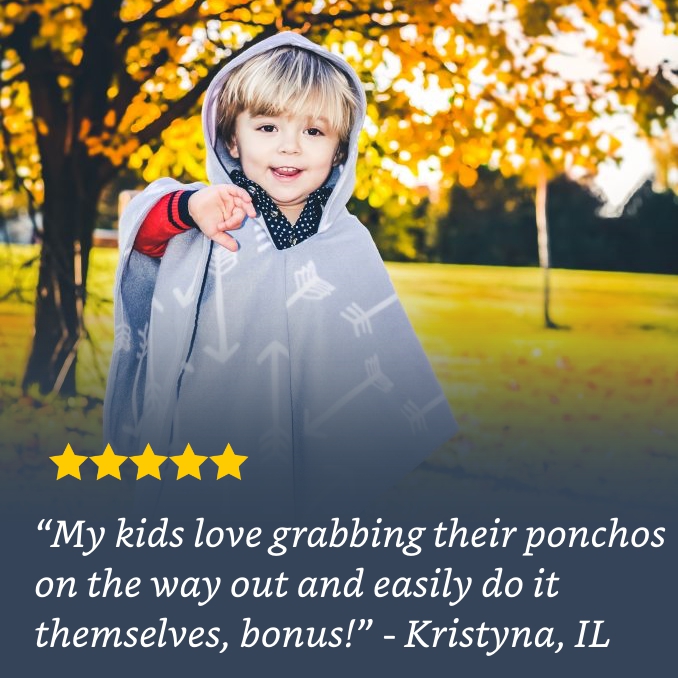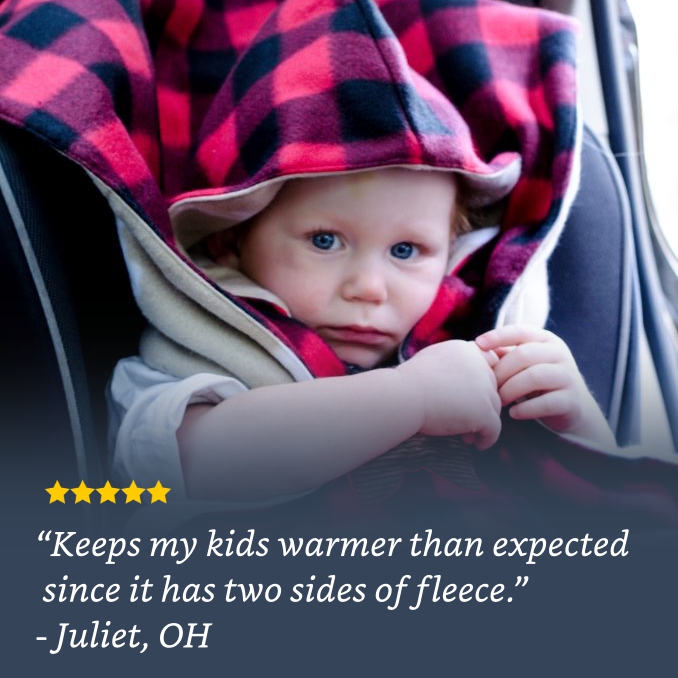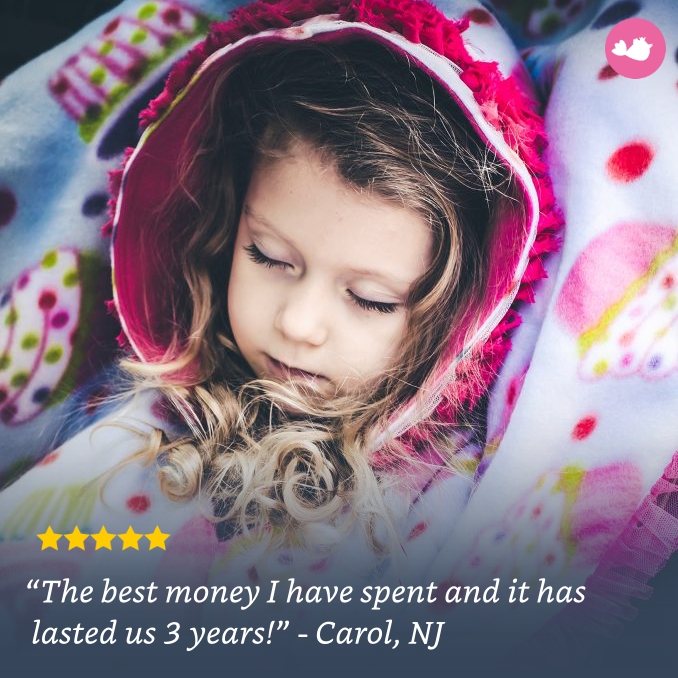 "The best money I have spent and it has lasted us 3 years!" – Carol, NJ
"Love love the multi use of them, my littles wear them not only in their car seats but also while playing outside." – Cynthia, MI
"Keeps my kids warmer than expected since it has two sides of fleece." – Juliet, OH
"My kids love grabbing their ponchos on the way out and easily do it themselves, bonus!" – Kristyna, IL
"Perfect for our inner city life as we run around with the stroller!" – Jacqueline, IL
"It's so soft and warm, easily and very quickly taken on and off, we get compliments constantly, the prints are unique! I'm a dad and use it, making life easier when you're already juggling a lot." – Nicholas, PA
"The reversible sides give us two options in one piece of clothing, we appreciate that!" – Sharon, OR
"I tried making my own and just in fleece for both sides, I was the same amount of money in. Totally worth it to save the diy hassle!" – Tamara, MN
"Most useful baby shower gift we received for our little boy!" – Britney, WA
"Made our airplane flight simple, our toddler was able to put it on and take it off himself, and no worries about it falling off like a blanket because of the hood!" – Renee, MI
"Love love love that they can be for boys and girls." – Tetra, OH

[asa]B075SDRSZC[/asa]
[convertful id="15019″]

Latest posts by Joanna Jozwik Serra
(see all)